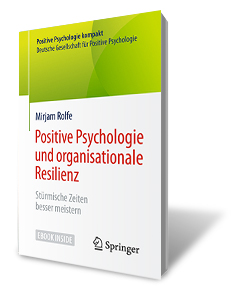 Positive Psychologie und organisationale Resilienz
Stürmische Zeiten besser meistern
Mirjam Rolfe
Health, performance and efficacy in times of digitalization and transformation?
This book (available in German) offers entrepreneurs, HR managers and leaders expert know-how to stay healthy and strong on the organizational, team and individual level. Based on scientific insights and practical know-how from Positive Psychology and Resilience, this book provides answers to current questions, such as:
How can organizations stay mindful and resilient in times of complexity and uncertainty?

How to develop a learning culture, focus on strengths and promote organizational energy?

How can people boost inner strength, be agile and engaged even during change and under stress?

How can leaders build trust, give orientation in unpredictable times and recover from setbacks?

How do teams manage to see diversity as strength, work creatively even under pressure and reach common goals?
Learn how to develop a resilient company culture, use change as an opportunity and get even stronger – as individuals, teams and organizations.
Pay it forward: For each copy sold, one euro will be donated to Refugium , an association helping people who lost a loved one through suicide.